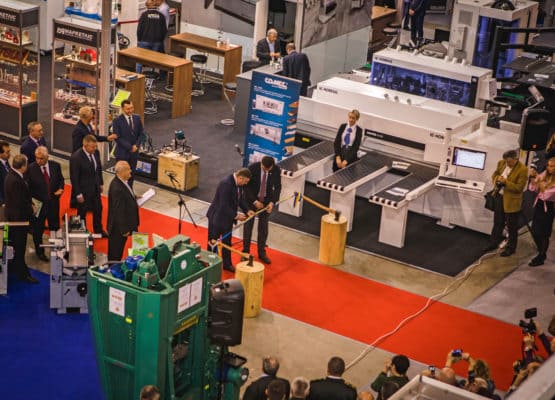 | | |
| --- | --- |
| Event:  | Event: 18th edition of LISDEREVMASH, International Trade Fair of Machinery, Equipment and Technologies for Forestry, Woodworking and Furniture Industry |
| Date: | 24–27 September 2019 |
| Venue:            | Kyiv, International Exhibition Centre, Hall 2, Entrance 2В (15 Brovarsky ave.) |
| Organizer: | ACCO INTERNATIONAL LTD |
| With support of: | State Forest Resources Agency of Ukraine, Society of Foresters of Ukraine, Ukrainian Woodworking Machinery Association (UWMA), Association of furniture and woodworking enterprises and organizations of Ukraine MEBLIDEREVPROM |
18th edition of LISDEREVMASH will be held on 24–27 September in Kyiv to bring together exhibitors from 16 countries, i. e. manufacturers and suppliers of machinery, tools and materials for start to finish woodworking.
As in the previous years, a wide range of forestry, furniture and woodworking specialists will visit the International Exhibition Centre at the end of September to join LISDEREVMASH. This year's exhibitors are over 130 companies from 16 countries who will showcase over 220 trademarks of machinery and equipment, tools and materials. Austria, Italy, Latvia, Poland, Slovenia, Turkey and Finland are among the countries most interested in Ukraine's market. About 15% of exhibiting companies will explore the trade fair (or maybe the country itself) for the first time.
Each edition of LISDEREVMASH normally showcases machinery and equipment by world's leading brands and Ukrainian ones as well. This year's exhibitors are AKEMSAN, BECKER POLSKA, FOREZIENNE, IMAC, IMAL, ITA TOOLS, LEDINEK, MÜHLBÖCK, PAUL, POLYTECHNIK, RMP BIOENERGIA, SECAL, SERRA, STIHL, VECOPLAN, WEINIG, WINTERSTEIGER, WRAVOR, ARPAL, ATON SERVICE, D LIGHT, DOLIGNO, KEMICHAL UKRAINE, KMA-UKRAINE, LEIZT INSTRUMENTY UKRAINE, FOREST TECHNICS, LEUCO UKRAINE, MAXIMER, MWM-KYIV, STANKODNIPRO, FELDER UKRAINE, HOUFEK and much more. This year's newcomers are FIREFLY, FORM MAKINA, HEKOTEK, IMEAS, LIGNUM AĞAÇ MAKINELERI, METABO, QCM, RASMEDIS, ENO MEBLI, PROFI-INSTRUMENT, F-Z UKRAINE, FOR-SAGE, HSM – FOREST MACHINERY and others.
Key concept of LISDEREVMASH is a full range of woodworking technologies under the same roof. It showcases tree harvesting machines, sawing machines and lines for primary processing, machinery and equipment for solid wood processing, machinery for wood-based panel manufacturing and nesting, tools and components for furniture manufacturing, veneers, chipboards, paints, varnishes and glues, wood waste chippers, pellet production technologies, boiler equipment, etc. All of the above can be logically grouped into four thematic sections, i.e. WoodMachinery, FurniTech, WoodProduct and WoodEnergy.
Visitors are also attracted by the opportunity to see innovated and brand new products for woodworking and furniture industry.
For the first time at LISDEREVMASH, best known Ukrainian manufacturers of wood boards and other wood-based materials will display their products at the stand of Mebliderevprom Association. They are: KRONOSPAN UA, manufacturer of chipboards and postformed materials, supplier of laminate floorings, wall panels, OSB, HDF; SWISSPAN LIMITED – manufacturer of chipboards; ODEK Ukraine – manufacturer of large-sized plywood; UKRSHPON – manufacturer of sliced veneer; UNIPLYT – manufacturer of HDF and plywood.
IMAL-PAL group, a world's leading supplier of solutions for manufacture of particleboard, MDF and OSB, will offer its modular system for manufacture of insulation board of varying size and thickness from wood fibre, with production capacities ranging from 100 to 1,000 m3/day. Wood Fibre insulation board is ideal for application in construction and furniture industries and for door manufacturing.
FIREFLY, a newcomer from Sweden, will display high-tech fire and dust explosion protection systems for woodworking companies, wood-based panel and biofuel plants. It owns more than 40 patents forming a unique set of innovative products and system solutions.
ITA TOOLS UKRAINE will showcase DTM series of professional nesting tools, i.e. milling cutters with three PCD blades spread out on six helix wings specially shaped for easier chip removal. DTM milling cutters have body from special hard steel or DENSIMET and PCD tip on the bottom to drill.
STANCOMPLECT will offer WDMAX Machinery series, i.e. WDX-468JSGA edge bending machine with edge jointer, two pre-melt glue containers and automatic edge thickness adjustment; DN-612S CNC boring machine with double drilling heads, which ensures six-sided simultaneous processing of two panels; WDX-832E economic type NC panel saw with max cutting height 76 mm; DN-2710 CNC machine as a part of WDX nesting line.
FOREST TECHNICS will showcase a convenient solution for forestries, i.e. LKT skidder with JCB engine and forwarding trailer. When teaming up, they function as a forwarder. When separated, skidder performs tree skidding and trailer is used with a tractor for log haulage.
BAYKAL – VENEER FROM UKRAINE will offer a wide range of veneers, including natural sliced and sawn, stump and burr, exotic veneers. Its product range includes blockboards, veneered MDF and chipboards, bending plywood and MDF, etc.
A number of events targeted at various age and profession groups will be held at conference halls. On 25 September, FSC Ukraine will tell you about advantages of forest management certification in Ukraine. Some events are prepared especially for young people. On the first two days, students will have an opportunity to hear chief executives of leading companies and discover their career prospects.
In addition to business events, there will be a place for entertaining ones, such as everyday prize drawing.
LISDEREVMASH has entered its eighteenth year as a pinnacle event of Ukraine's woodworking industry. It is the only UFI approved woodworking trade fair in Ukraine. Due to its international significance, it is supported by the State Forest Resources Agency of Ukraine, Society of Foresters of Ukraine, Ukrainian Woodworking Machinery Association (UADO), Mebliderevprom Association, and European Federation of Woodworking Machinery Manufacturers (Eumabois).