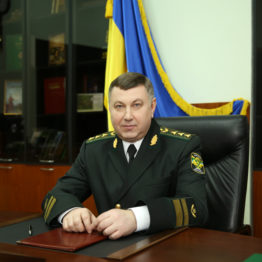 Volodymyr Bondar
Deputy Chairman of the State Forest Resources Agency of Ukraine
The State Forest Resources Agency of Ukraine
Dear participants and visitors of LISDEREVMASH,
The 17th edition of the International Trade Fair of Machinery and Equipment for Forestry, Woodworking and Furniture Industry LISDEREVMASH is about to start.
And I have the honor to congratulate participants and visitors of this major event on its opening on behalf of the State Forest Resources Agency of Ukraine.
LISDEREVMASH offers a perfect opportunity to discuss topical issues of the woodworking industry, share experiences, obtain useful information and enter into new partnerships. This event is a reliable partner that is internationally trusted and recognized.
The State Forest Resources Agency of Ukraine has launched the changeover to new methods of forest management, including timber harvesting systems. To implement them, the industry needs advanced equipment. So, LISDEREVMASH is an opportunity to learn about the latest developments and establish collaborative links, as its every edition attracts a great number of participants, i.e. forestry, woodworking and furniture professionals. This once again highlights the fact that wooden products are in great demand, and our task is to ensure efficient and non-consumptive use of forest resources.
The forestry is facing serious challenges that could be successfully addressed only by consolidation of our efforts. Therefore, I am very pleased with the fact that this year's edition of LISDEREVMASH is hosting the Fourth Ukrainian Foresters Convention.
Mutual cooperation will contribute to the fulfillment of crucial tasks, such as increase of Ukraine's forest area and wildlife diversity, protection and preservation of ecological environment, implementation of sustainable forest management principles currently used in the EU.
I wish all participants and visitors have a fruitful work, establish new contacts, and succeed in the development of Ukraine's forestry, woodworking and furniture industry.