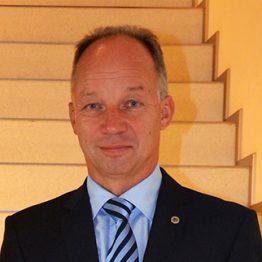 Juergen Koeppel
Eumabois President

European Federation of Woodworking Machinery Manufacturers Eumabois
Dear Ladies and Gentlemen,
Please let me welcome all exhibitors and visitors at this show and let me wish profitable business to all the industry parties who are visiting LISDREVMASH in these four days. I believe that the Kyiv exhibition is an ideal opportunity to start new relationships and to exchange opinions about the evolution of a market that has always brought great satisfaction to all involved parties.
Ukraine is a very important market for our industry – processing wood and wood based materials – and all the related process technologies. In the coming days, Kyiv is the meeting place for demand and offer of machines and tools for an optimized production with higher efficiency and quality for creating products that are more stylish, economical and durable.
We expect good results for a show that has been partnering with Eumabois since a long time. The European Federation represents over 850 companies that generate a turnover exceeding 6 billion Euro. Eumabois members are fourteen national associations dealing with woodworking technology and supporting the member companies in their daily business.
Today, more than ever, it is essential to stress the message "Made in Europe". For sure it is a key factor for success in a very competitive global environment and market. Quality, safety and innovation are the essential factors that best represent the promotional "mission" of Eumabois and that characterize the know-how of our companies.
So, let's start the exhibition, confident and aware of the strategic value of this event for all industry companies in Ukraine and also in the neighboring countries. Among Eumabois objectives, a key role is played by the promotion of exhibitions, not only to consolidate business transactions, but also as an opportunity for all industry and supply chain actors to share opinions and views on a constantly changing economic scenario. The Federation will continue, even more in the future, to support these meeting opportunities through its network in order to promote the creation of a fruitful marketplace.
As the exhibition and therefore the associated business begins, I want to express my best wishes to all of you, the exhibitors and the visitors, of the 2019 edition of this great event. May LISDREVMASH bring great success for your companies! Finally, I want to express my extreme gratitude for the professional cooperation and support we received from our partner, the organizer of this fine exhibition – LISDREVMASH 2019.